Views from The Perkins Cove Oceanfront Cottage says it all!
This oceanfront beach property boasts spectacular views from both sides. One side features breathtaking views of the ocean, while the other side of the cottage features views of the waterway and drawbridge where boats leave and return to port. The Perkins Cove Oceanfront Cottage has 2 bedrooms, 2 bathrooms, 2 fireplaces and A/C. It is the perfect get away for couples and small families!
Sit on the deck and enjoy watching the tide and hearing the sounds of the surf! Enjoy all that Ogunquit has to offer by walking everywhere… restaurants, beaches, Marginal Way, shops, fishing/sailing boats, and the trolley. This is an unbelievable location!
The Perkins Cove Oceanfront Cottage has it all! Nestled in the heart of Perkins Cove, you can walk out the screen door and be on the private beach. Views are spectacular! Go swimming, fishing, bike riding, whale watching, shopping, eating out etc…. Or go to a live play at the Ogunquit Playhouse….maybe just walk the beach and pick up seashells.
Stunning
5/5 Stayed Nov 2019 Kathleen D. Stunning…simply put. When I booked it, I didn't realize I was in the middle of the quaint little shopping cove. It looks like Santa's village this time of the year.
My Happy Place
5/5 Stayed July 2019 Stacey N. Ogunquit has been My Happy Place for quite some time now, but the Perkins Cove Cottage goes beyond. It feels like your own private corner in The Beautiful Place by the Sea. You are both in the midst of everything OGT and Perkins Cove has to offer, while also being blissfully separate.
The perfect vacation
5/5 Stayed August 2019 James C. This is a fresh, clean property in the perfect location in Perkins Cove! From watching the sunrise from the loft bedroom, to stepping out onto the secluded beach, and then walking to the best shops and restaurants Ogunquit has to offer. Our only wish is that we owned it!
Perfect cottage on Perkins Cove
5/5 Stayed June 2019 Stephen P Brookfield Location is amazing, views are spectacular. Perfect location for exploring Perkins Cove, marginal way, and Ogunquit. You can park the car and walk everywhere from the cottage. Fabulous!
Great place to stay
5/5 Stayed June 2019 Donna R. Perfect location, you can keep your car parked and walk just about everywhere. A very clean and comfortable home with beautiful views. Jason the owner was very nice. Would highly recommend.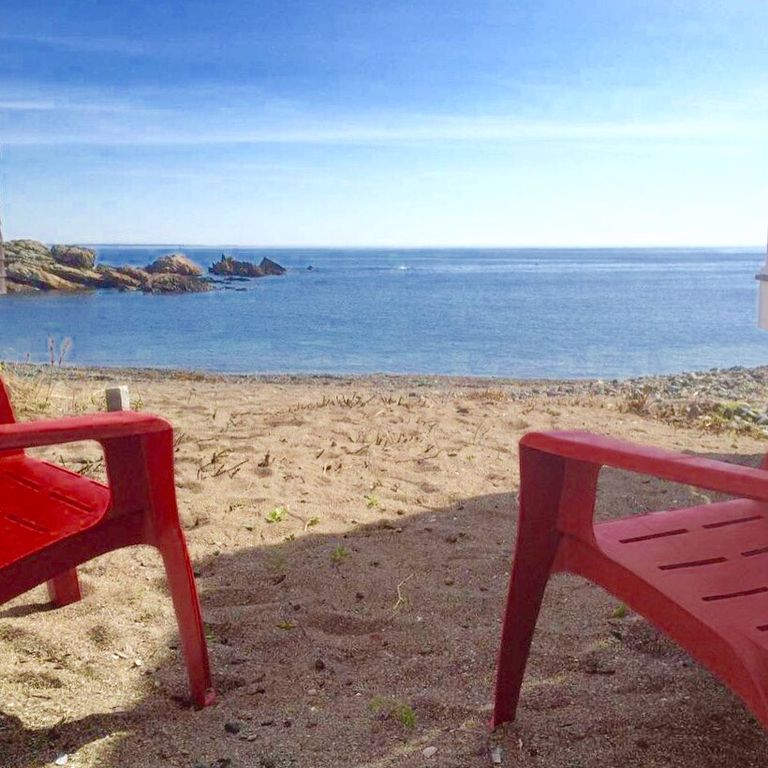 Q and A
How do I gain access to the house?
At the day of check in we will email you the access code to get in.
Where do I park?
There is parking in the front of the house.
Can we have more than 4 people stay?
Ogunquit has pretty strict rental regulations, and the maximum overnight occupancy is 4.
Are linen and towels provided?
Yes! We provide 4 bath towels, 4 hand towels and 4 face clothes and all linens.
Is there a coffee maker in the cottage?
There is a K cup AND regular coffee maker in the cottage
Do you have pots and pans in the kitchen?
Yes. The kitchen is small but pretty well equipped.
Do you provide a Hair dryer? Iron/ironing board?
We do a hair dryer and an iron and ironing board.
Do you provide shampoo, soap, toilet paper, paper towels, etc?
Yes, we provide starter shampoo, soap, TP, and PT.
What do I do with my trash?
There is a trash container outside under the stairs.
Where is the nearest store?
Small stuff – right in the center of town. Larger stuff – Hannaford's either in York (South) or Wells (North)
Is there transportation to the beach?
On season, yes there is a trolley right here in Perkins Cove that goes right to the beach. There is also a beach caddy (Golf cart) that can take you there as well.
Is there wireless internet? What is the password?
Yes, there is high speed internet.
Can you smoke inside the house? Are pets allowed?
There is no smoking or pets permitted in the cottage.